About Us
Mantena Indian Private School (MIPS), an Indian Curriculum School, located in Muweillah Area, Sharjah will be OPENING SOON.
MIPS is a member of the
MNR Educational Trust
, Hyderabad (India), led by visionary Educationist Shri M.N. Raju. The Trust owns and operates several Higher Education Institutions including Medical College, Dental College, Pharmacy, Nursing and Engineering College and a large number of schools and nurseries in Hyderabad and Navi Mumbai, India. Please visit their website at
www.mnrindia.org
for more details
OUR MISSION
To develop young global citizens with active and creative minds, a sense of understanding and compassion for others, and the courage to confidently act on their beliefs.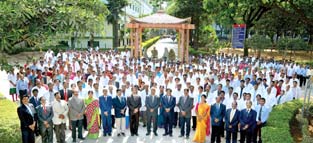 OUR VISION
To provide a happy, creative, productive, and orderly learning environment that helps children to 'know themselves', thus becoming confident life- long learners and responsible, caring global citizens.
Mr. M.N. Raju, a visionary educationist, started a school in Hyderabad in 1974 with a clear vision of establishing Centre of Educational Excellence far and wide. Today, under MNR Educational Trust and MNR Research Conventions Private Limited, established by Mr. M.N. Raju, there are more than 71 Educational Institutions spread over in the State of Telangana, Navi Mumbai, Maharashtra (India). There are more than 48,000 student enrolled in several schools and various Institutions from KG Level to Post Graduate Level in Medical, Dental, Engineering, Education, Arts and Science Colleges. Please see the video